SAORI is an exciting way of weaving which allows anyone to spontaneously and quickly create unique hand woven cloth. Suited to all ages, all genders and all abilities, Saori weaving encourages people to follow their intuition as they enjoy exploring the creative process.
Take a look around this website to see images of weaving created on SAORI looms by beginners and experienced weavers alike. Browse the albums in the GALLERY to see the diversity of expression that is Saori w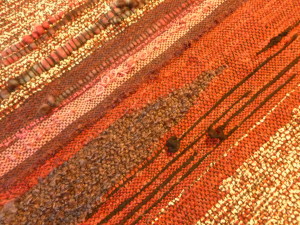 eaving.
You can enjoy weaving for yourself, family and friends, through individual or group classes held at our Box Hill (Melbourne) studio. Sessions are very affordable, starting at $40 for 2 hours including all materials.  For all session costs and options, check out Saori in the Studio page here.  We can also visit groups to hold on-site demonstrations and hands-on weaving workshops.
OPEN every Wednesday & Thursday for individual weaving sessions …….. Email or call to book your session for SAORI weaving!
As well as the regular week day sessions, Art Weaver SAORI Saturday Group Workshops are held on advertised dates .   See below for Saturday dates for first half of 2018.
Please give us a call or email and plan a visit to Art Weaver SAORI Studio. You will be absolutely delighted with your Saori style weaving experience!
Dates 2018  SAORI Saturday Workshops
February 3rd  –  fully booked (wait list only)

March 3rd –  fully booked (wait list only)

April 7th -fully booked (wait list only)

June 16th – 2 places available
At just $95 for a full day's weaving (plus materials as used) all Art Weaver SAORI Saturdays include a tasty lunch!  
Email heather@artweaver.com.au  for further details and how to make your booking.